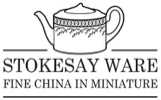 HANDMADE IN 1/12th SCALE
FOR DOLL'S HOUSES

When Karen graduated from the Royal College of Art in 1981 with a Masters Degree in ceramics there couldn't have been a worse time to start a career. The country was deep in recession with unemployment standing at 3 million, 12.5% of the workforce.
After seeing the dolls house belonging to her young nieces she made a few pieces in terracotta to go in it. The first was the casserole dish shown right (center top) and although the models and moulds went well, it took her 2 weeks to learn how to get a cast out in one piece.
The first two shops she showed them to placed orders and Stokesay Ware was up and running. She applied for a stand at Dorking show run by Mary Churchill where she met Muriel Hopwood who invited her to the first Miniatura and the following year Caroline Hamilton invited her to the first Kensington show. Stokesay Ware has exhibited at both shows ever since.
Peter, who had just graduated with a degree in modern history joined her, taking over the admin side of the business, freeing Karen to make miniatures. The partnership is still going strong after more than 35 years.
Stokesay Ware is made in much the same way as full sized china. After making scale drawings the original solid model is made in plaster and the working moulds made from this. The pieces are slip cast using bone china, earthenware, terracotta or stoneware, removed from the mould and rough edges fettled away when the clay is dry. After biscuit firing they are glazed and fired again. The decoration is applied in layers, each fired separately, starting with the 22ct gold lustre rim and followed by the colours which are either silk screen or digitally printed. Each piece may undergo up to 6 firings at temperatures of up to 1200 degrees Celsius.
This is a short extract from a film made by Charlotte Stokoe of the Kensington Dollshouse Festival demonstrating the making process.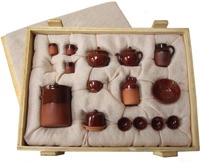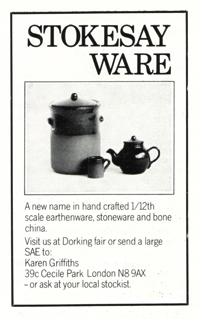 1983 Advert for Dorking Fair:
'A new name in hand crafted 1/12th scale earthenware, stoneware and bone china.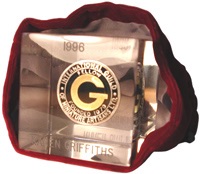 Karen became an IGMA Fellow in 1996