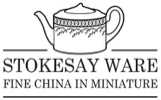 HANDMADE IN 1/12th SCALE
FOR DOLL'S HOUSES

Over the years there have been a number of feature articles about our work.Our warm thanks is extended to the publishers for their permission to publish them here.
EMAILS WE HAVE ENJOYED - a remarkably small belfast sink.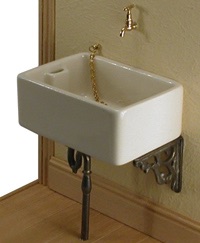 'May I politely point out that the sizes you quote would suit only a remarkably small belfast sink.I also believe that your website shows odd sizes. ie. 21mm
height by 52mm width, and very attractive total price of £30 for the sink, brackets and plumbing kit.
I'm not one of these people who insist on claiming products for the advertised price, but if
you think for my trouble warning you of these errors, you can offer me the whole package at £30, I would be pleased to purchase one immediately. Otherwise, good luck with your enterprise'.
1 ZU 12
Number 71 May-June 2013
"STOKESAY WARE' DAS IST PORZELLAN VOM FEINTEN
By Barbara Leuchtenberger
DOLLS HOUSE WORLD
Issue 186 March 2008
AN INVITATION TO NEW ZEALAND
By Karen Griffiths
DOLLS HOUSE WORLD
Issue 182 November 2007
SILVER ANNIVERSARY
By Joyce Dean
DOLLS HOUSE NEDERLAND
Number 17 April 2006
PORCELEIN!
By Henny Christophersen
Another 9 articles to follow.......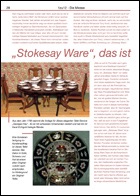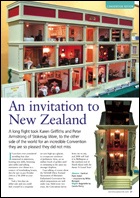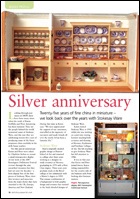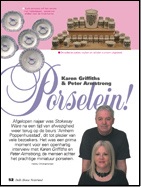 DOLLS HOUSE WORLD
Issue 315 DECEMBER 2018
FESTIVAL AT 50
By Caroline Hamilton and Richard Jennings