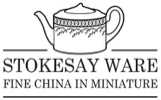 HANDMADE IN 1/12th SCALE
FOR DOLL'S HOUSES
Delivery for the items shown in the left hand column currently running at about 2 weeks.
EMAIL US
peter@stokesayware.com
PHONE US
From the UK: 020 7254 5242
From outside the UK: +44 207 243 5242
WRITE TO US
Stokesay Ware
37 Sandbrook Road
Stoke Newington
London N16 0SH
PAYMENT
When your order is ready we will send you a pro-forma invoice and despatch your package on receipt of your payment. Completed orders will be held for a period of one month.
BY CHEQUE
Please make the cheque payable to 'Stokesay Ware'. Overseas customers need a sterling draft drawn on a British Bank.
BY PAYPAL
Please pay directly to 'karen@stokesayware.co.uk' or we can send you a PayPal payment request.
You do not need a PayPal account to make a one-off debit or credit card payment.
BY BANK TRANSFER
Make a payment in pounds sterling directly to our bank account, We will send you the details on request when your order is ready.
RETURNS
If for any reason you are not completely delighted with your order we will refund or exchange any item returned to us in perfect condition in the original packaging within 10 days. This is in addition to your statutory rights.
SUMMER BREAK
We close down every summer for June, July and August.
PLEASE NOTE
Stokesay Ware is intended for adult collectors and is not suitable for children under the age of 14.
WE ARE NOW OFFERING OUR OLDER SEVICES FOR SALE ON EBAY
I have been making Stokesay Ware continuously since 1981. A rumour started circulating three years ago in 2016 that I had retired which had two consequences - we were swamped with orders and the prices on the secondary market soared.
We had to close our order book 2 years ago to try and clear the near 3 year backlog and unfortunately a few unscrupulous dealers took this as an opportunity to openly advertise my imaginary retirement and to declare swathes of our work as 'discontinued'.
Neither were true.
When I finally completed the orders at the end of 2018 Peter and I had to reconsider our position as opening the order book would only repeat the problem.
We decided instead to continue making our Willow, Sovereign, Jubilee, Nursery and Blue and White ranges and sell them on eBay as both complete sets and individual pieces. We are also listing vintage items we have had stored in our attic for some time. We list them as auctions at our retail prices to discourage them being bought and sold on at a higher price and hope the prices will soon stabilise.
In the meantime we do continue to take orders for our collectible Chelsea plates and Victorian Earthenware listed in the left hand column of this page and regularly introduce new and exciting work at shows.
We know this has been as trying for our regular customers as it has been for us and thank you for your patience.
Karen and Peter
Stokesay Ware March 2019
POSTAL CHARGES
UK
Packages are sent by first class recorded delivery.
COST
Under £50 £3.00
Over £50 FREE
OVERSEAS
Packages are sent by tracked or registered airmail. Buyers are responsible for any import duties that may be levied.
Please allow about 4 days to reach Europe and about 9 days for Rest of World.
COST
All orders £9.00
All orders are packaged in an attractive Stokesay Ware gift box.
SUMMER BREAK
We close down every year for the months of June, July and August.

Please see the end of this page for availability of our older ranges, Willow, Sovereign, Jubilee, Nursery and Blue and White.