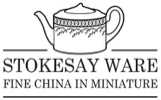 HANDMADE IN 1/12th SCALE
FOR DOLL'S HOUSES
Due to pressure of work we have temporarily cut down on the number of shows we are attending this year.
We look forward to meeting you and showing our work at the following exhibitions in 2019. These details are accurate to the best of our knowledge but as some events require pre-booked tickets it is a good idea to check with the organiser's website beforehand.
We will be launching our new limited edition plate,
Chelsea LE701'Calico' at our shows this year.
Based on the original by John Dimmock & Co c1866 this rectangular meat plate measures 31mm wide by 25mm high and is made from bone china with blue ceramic enamel decoration and 22k gold fired on in the kiln.
We auctioned the first 10 for charity so there are 90 remaining of this edition of 100 .
2019
MAY
Friday 10th
Saturday 11th
2019
MARCH
Saturday 30th
Sunday 31st
MINIATURA (SPRING)
National Exhibition Centre
Birmingham B40 1NT
ORGANISER
Andy Hopwood
Miniatura, Park Business Centre
Wood Lane, Erdington
Birmingham B24 9QR
Telephone 012 1783 9922
KENSINGTON SUMMER
DOLLSHOUSE FESTIVAL
Kensington Town Hall
Hornton Street, London W8 7NX
ORGANISER
Charlotte Stokoe
The Studio, 70a Lawford Road
London N1 5BL
Telephone 020 7812 9892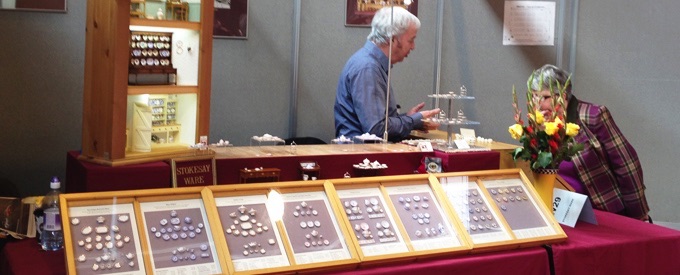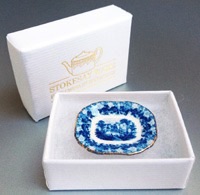 KENSINGTON CHRISTMAS
DOLLSHOUSE FESTIVAL
Kensington Town Hall
Hornton Street, London W8 7NX
ORGANISER
Charlotte Stokoe
The Studio, 70a Lawford Road
London N1 5BL
Telephone 020 7812 9892
MINIATURA (AUTUMN)
National Exhibition Centre
Birmingham B40 1NT
ORGANISER
Andy Hopwood
Miniatura, Park Business Centre
Wood Lane, Erdington
Birmingham B24 9QR
Telephone 012 1783 9922
CITY OF LONDON
DOLLSHOUSE FESTIVAL
The Tower Hotel
St Katherine's Way
London E1W 1LD
ORGANISER
Charlotte Stokoe
The Studio, 70a Lawford Road
London N1 5BL
Telephone 020 7812 9892