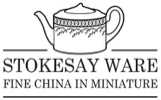 HANDMADE IN 1/12th SCALE
FOR DOLL'S HOUSES

EMAIL US:
peter@stokesayware.co.uk
PHONE US:
From the UK: 020 7254 5242
From outside the UK: (0)44 20 7243 5242
WRITE TO US:
Karen Griffiths & Peter Armstrong
Stokesay Ware
37 Sandbrook Road
Stoke Newington
London N16 0SH
SEND US A MESSAGE:
We are not open to the public but as well as offering a mail order service we exhibit our work at specialist doll's house shows. Please visit EVENTS→ for more details.
We aim to respond to enquires during normal office hours.
SUMMER BREAK
We close down every summer for June, July and August.