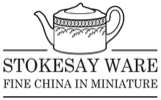 HANDMADE IN 1/12th SCALE
FOR DOLL'S HOUSES

ORDER
Please visit our CONTACT→ page and send us your requirements.
Our range of Chelsea plates are real plates in miniature. We handmake them ourselves here in London from bone china clay which is fired, then glazed and fired again. The decoration of coloured ceramic enamels and 22k gold is applied separately and permanently fired on in the kiln. We also draw our own artwork so each part of the process is our own.
With a diameter of 22.5mm they represent what was traditionally a standard 10 1/2 inch dinner plate in 1:12 scale. Dinner plates have only become 'supersized' in recent years.
My particular enthusiasm is for English transferware which was introduced in the mid 18th century and really took off towards the end of the century. Prior to that the majority of finely decorated pieces were imported from China and Japan and so were prohibitively expensive to all but the very rich. With the advent of printing techniques, richly decorated china became affordable to a much wider proportion of the population leading to an explosion of colour and pattern in homes. Many of the patterns emulated, or indeed directly copied, the Chinese designs and Chinoiserie was immensely fashionable with the Prince Regent leading the way at his Brighton Pavillion.
The five towns that make up the Potteries in Staffordshire were a hive of art, innovation and industry, and their wares were exported in quantity all over the world. Sadly many of these factories have now gone with a tremendous loss of skills as the production has moved to the Far East. Happily the likes of Spode, Mason, Coalport, Doulton and the hundreds of smaller 'pot banks' left such a body of work behind them that their names live on and they are still avidly collected.
DATES
The dates I have given for the plates are intended as a guide only. It is often possible to precisely date a single plate but much more difficult to find out when a pattern was introduced. I have given the dates for the earliest examples I have found but these may be subject to review in light of new information.
COLOUR
Colours may vary on different monitors and may also vary from print to print and firing to firing. If you would like more than one of a particular plate we would advise you to order them at the same time to ensure they match. All of the photographs on this site are of the actual miniature plates unless indicated otherwise. I have used a pen nib in the pattern index to denote scale and hopefully deter emails like this: