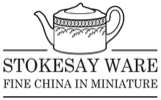 HANDMADE IN 1/12th SCALE
FOR DOLL'S HOUSES


'QUEEN ELIZABETH II' 2022 PLATINUM JUBILEE
We are pleased to present our Platinum Jubilee plate with our original design featuring the coronation crown in the center. Celebrating 70 glorious years of rule by Queen Elizabeth II it is a tribute to her tireless service, wisdom and dignity over seven decades.
We will continue to provide these plates until the end of 2022 or until stock runs out. Please let us know your requirements via our CONTACT→ page.
We make the Stokesay Ware range of miniature china for doll's houses by hand here in London in the scale of 1 inch = 1 foot. It is made from bone china clay which is fired then glazed and fired again. The decoration of coloured ceramic enamels and 22ct gold is applied separately and permanently fired on in the kiln. We make all our own moulds and draw our own artwork so each part of the process is our own and unique to Stokesay Ware.
Name: Elizabeth II
Number: 163
Style: Stokesay Ware
Date: 2022
Period: Windsor
Scale: 1/12th life size
£30