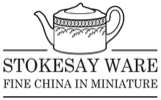 HANDMADE IN 1/12th SCALE
FOR DOLL'S HOUSES


'MARY ROSE' c1889 DINNER SERVICE FOR 6
This more formal dinner service with a dark blue border and 22k gold rim is softened with the swags and rose posies and is inspired by Minton. We have called it 'Mary Rose' after Queen Mary's rose garden in Regents Park, London.
A dinner service for six comprises of one each of the three service pieces, covered tureen, covered vegetable dish, open vegetable dish and six each of the dinner, side and soup plates.
We make the Stokesay Ware range of miniature china for doll's houses by hand here in London in the scale of 1 inch = 1 foot or one twelfth life size. It is made from bone china clay which is biscuit fired then glazed and fired again. The decoration of coloured ceramic enamels and 22ct gold is applied separately and permanently fired on in the kiln. We make all our own moulds and draw our own artwork so each part of the process is our own and unique to Stokesay Ware.
Name: Mary Rose
Pattern No: 161ds
Style: Minton
Date: 1889
Period: Victorian
Scale: 1/12th life size