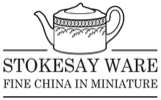 HANDMADE IN 1/12th SCALE
FOR DOLL'S HOUSES


LEFT
140 'The Font'
126 'Regency Blue'
143 'Fallow Deer'
£140
RIGHT
104 'Buttterfly'
149 'Chinese Basket'
136 'Grasshopper'
£140
LEFT
134 'Ewer'
128 'Melbury'
129 'Ship Border'
£140
RIGHT
114 'Bouquet'
£140
LEFT
145 'Lotus'
£140
RIGHT
113 'Absalom's Pillar'
£140
'CHELSEA PLATES AND CAKE STANDS
Our complete range of historically accurate miniature plates are
available under 'CHELSEA PLATES' in the left hand column.
They are available to order but we do have a limited number of each in stock for immediate dispatch. Please let us know your requirements via our CONTACT→ page and we will advise you of current availability. If you would like to design your own cake stand the sterling silver stands are available on our ACCESSORIES→ page.
We have put some examples together below which are ready to send.