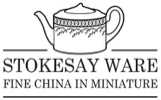 HANDMADE IN 1/12th SCALE
FOR DOLL'S HOUSES
Peter and I ended 2018 on a high. We had a fantastic show at Kensington at the beginning of December celebrating the 50th Dollshouse Festival. Together with Janet and Paul of Country Treasures we are the only 2 firms to have attended all 50 shows. Richard Jennings of Dollshouse World has compiled a lovely article about how the show started and has grown over the years and has been kind enough to allow us to publish it in ARCHIVE→.
We will be eternally grateful to Caroline for inviting us to that first show - accepting the invitation really was one of our better decisions. Since taking over Charlotte has led the show from strength to strength and done a fantastic job. Thank you both!
At the show we were able to debut some new work, although as it sold out so quickly not many people got to see it so here is a peak at things to come:
FABULOUS AT 50!
2019 JANUARY

Caroline and Charlotte, Janet and Karen
The best news for us though is that we have at last sent out all our orders. It has taken well over 2 years to work through the huge backlog of work generated by the completely unfounded rumour that I had retired and perpetuated by a few unscrupulous dealers particularly on Ebay. The relief is enormous.
Clearly we can't do that again so we are changing the way we work and plan to put this into practice in the spring. Check our home page for updates.
We will no longer be taking orders for our older ranges
Sovereign, Blue Willow and Jubilee, but will be selling them on Ebay as and when I can make them.
Ebay user ID: stokesayarchive
We also have a considerable amount of unused vintage and discontinued work that we have stored in our attic over the years and will list on Ebay too. It is a bit like deep seam mining so we will have to work our way through it gradually. We have no idea ourselves what is up there.
All the work illustrated in the left hand column of our website is available to order now, namely the Victorian kitchenware and the Chelsea plates. I also plan to make some new services using the Chelsea patterns which we will offer for sale at shows and on Ebay for those not able to attend. I won't be able to take orders for these as there is simply too much to do.
Thank you all for your patience, and a very peaceful, healthy and happy 2019 to you all.
Karen and Peter
January 2019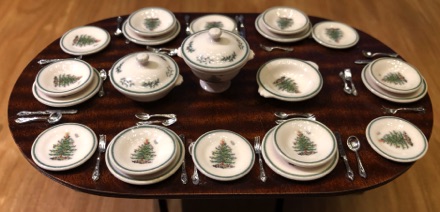 Christmas Tree dinner service based on Chelsea 152
Chrysanthamum dessert service based on Chelsea 144.
Please note these services are not available to order but we hope to have some at shows and will be offering them from time to time on Ebay.