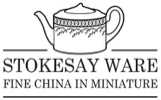 HANDMADE IN 1/12th SCALE
FOR DOLL'S HOUSES
Our old site was living on borrowed time. I built it in 2000 using software that was killed off in 2003. Each new upgrade to the Windows operating system has threatened to derail it and Vista actually did. It was only a matter of time before it stopped working altogether.
It has been at the top of my urgent 'to do' list for at least 3 years and at last I have found time to do it, thanks to my recent RSI injury which has prevented me from making pots, apart from those listed on the left, for the time being.
It is still a work in progress. Websites evolve over time and I hadn't fully appreciated how big the last one had become - over 120 pages, hundreds of pictures and thousands of links. It is going to take me some time to get up to speed so I am starting with just the pieces we are able to supply at the moment and will build it up once my wrist has healed and I have worked my way through the backlog.
My thanks to everyone who has sent me pictures and I hope to add them to the site in the near future.
In the meantime I will carry on adding content, so please check back from time to time to see whats new. My particular interest is 19th century English transfer ware, a mine of beautiful, decorative ceramics. I will be adding information about patterns, manufacturers and techniques. Many of these factories have now disappeared and much of our manufacturing has moved overseas. Little has changed in the making of china in the last 200 years and all these skills are being lost, so I look forward to sharing my enthusiasm with you.
Karen
2018 May
WELCOME TO OUR NEW WEBSITE
2018 MAY